Meet the Team
At Pauletts, we're all about family. In fact, we've been a family run business since 1983. Over the years, as we've grown and thrived, so has our team. We'd love you to meet them – they're a great bunch.

Neil Paulett
Founder and Chief Winemaker/Mentor
"I get a big kick out of seeing people drinking and enjoying our wines."
As a young winemaker in the 1970s, Neil learnt his trade working for two of Australia's most iconic wineries, Penfolds and Rosemount Estate.
But Neil's dream was to start his own winery, a family business that would serve as a legacy for the next generation and beyond. It took Neil and Alison, his wife and business partner, a little over ten years to turn that dream into a reality.
They chose the little known Clare Valley, recognising the region's wine production and falling in love with its natural beauty.
Pauletts was established in 1983, and Neil remembers the first time he saw the winery's magnificent view as if it was yesterday.
Pauletts is a testament to Neil's vision and the passion and hard work of his family and team.
Amongst the many awards and accolades Pauletts wines have accrued over the years, one in particular stands out for Neil. His 2005 Aged Release Riesling won 'Best Riesling in the World' at the 2010 Canberra International Riesling Challenge. "Winning the award was the most wonderful sensation. We were so proud of our entire team."
Alison Paulett
General Manager
"You have to work to get the jobs done; you can't rely on anyone else and I'm proud that our children have grown up to become good citizens and understand that."
Alison likes to joke that Neil's dream became her nightmare. But the truth is that Alison is incredibly tough; her quiet strength and incredible work ethic are the foundation of Pauletts' success.
As a trained nurse, if something needs to be done, Alison rolls up her sleeves and gets on with it.
In the early days, that meant weeding the vines by hand, learning how to run a business on the fly, running the cellar door seven days a week from the tin shed down the bottom of the hill and picking up the pieces after the devastating Ash Wednesday bushfires almost destroyed Pauletts' first vintage.
And she did all this while juggling the demands of being a mum to two young children. The same two children who dumped a dead brown snake in the middle of the floor while Alison was hosting a wine tasting – thankfully the visitors were locals!
These days there are some amazing women being recognised for making their mark in the wine industry, but twenty years ago the achievement of women in wine went largely unnoticed.
As Neil points out, Pauletts could never have succeeded without Alison's passion and dedication. When Alison reflects on how Pauletts has grown to become the vision that she and Neil have shared, she's incredibly proud of everything they have achieved as a family.
Both Alison and Neil are looking forward to seeing their dream continue to thrive with son Matt and his wife Ali now at the helm.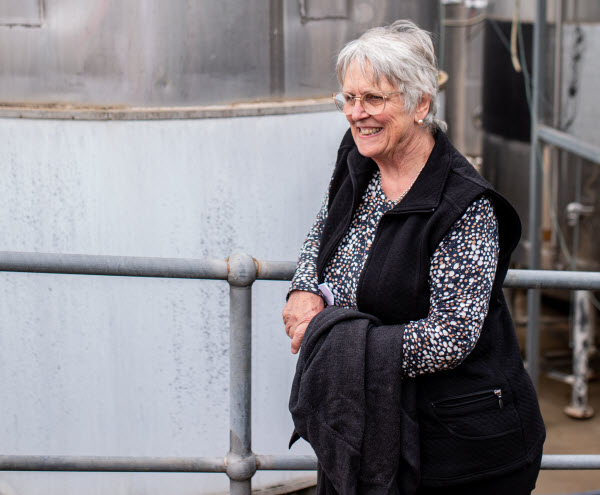 Matt Paulett
Operations Manager
"We've been operating sustainably for nearly 40 years… we plan to keep that going for another 40 and then some."
As Operations Manager, Matt is the proud custodian of the 88ha Pauletts has under vine, including 100-year-old Shiraz vines planted by the early Polish Hill River settlers.
Matt has a real passion for the land and he makes it his responsibility to look after the natural ecosystem. He's always looking for ways to innovate, and he's proud to be continuing and developing the sustainable practices implemented by his dad, Neil. Pauletts hasn't irrigated since the 1990s and Matt manages the vines so they thrive on regular rainfall.
And instead of using synthetic fertilisers, Matt plants clover and medic under the vines, which act as a natural mulch and feed the soil.
The love and sweat Matt and his team put into looking after the vineyard are reflected in the quality of the fruit they produce.
Pauletts' small batch philosophy is underpinned by sustainable practice at every stage of the winemaking process. As Matt explains, "We have tight control over the vineyards and the winemaking process, so we can retain that freshness from the vineyard and the very expressive juices that follow through into the finished product of the glasses around the table."
Ali Paulett
MANAGING DIRECTOR
"I hold my head up high when I walk down the street because I'm just so proud of our team and our wine and of everything that's happening in the cellar door and Bush DeVine."
If there's one word that sums up Ali, it's passion. She's passionate about her family, her team and Pauletts. And as head of marketing and sales, she funnels her passion into delivering the best possible experience for our clients, whether they be new visitors to the cellar door and restaurant or loyal members of Pauletts Exclusive Wine Club.
Ali is also the driving force behind our award-winning restaurant winery Bush DeVine and bush food garden.
Her team is her pride and joy. She really looks after them, even making each and every one a coffee in the mornings. "I love my team like my family, and in return they give me the best of themselves, and that's reflected in our food and our service."
Before choosing to dedicate herself to the family business, Ali had accrued a slew of qualifications and diverse career experiences. Horses were her first passion and she worked with the Australian Equestrian Academy before turning her hand to vet nursing and later running her own architectural drafting business.
And of course, there are the three gorgeous children she's raised with Matt along the way. Pauletts is Ali's dream job and her drive for excellence is gaining recognition – Pauletts was awarded Tripadvisor's Travellers' Choice Award 2020 and Best Tourism Restaurant at the Restaurant & Catering Awards for Excellence and the Great Australian Wine Capital Award.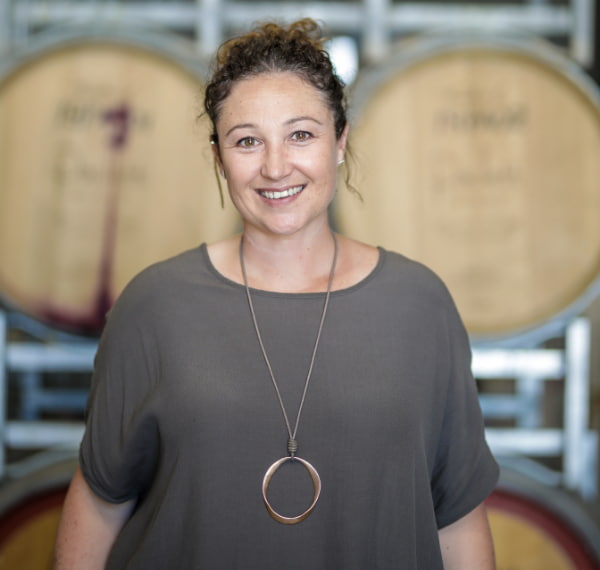 Jarrad Steele
Senior Winemaker
"Getting the wine in the bottle at the optimum time allows the characteristics of the grape and the region to shine through."
Jarrad is an exciting young winemaker who embraces Pauletts' philosophy of letting the fruit from the vine speak for itself. And he's already making his mark.
Jarrad's first vintage here at Pauletts included the 2019 Brielle Grenache, named after his firstborn baby girl and bottled under his own winemaker's label.
Jarrad saw the potential in some of the older Grenache vines at our Watervale vineyard, a site he regards as the best place to grow the varietal here in the Clare Valley and he put them to good use creating an aromatic, fruit-driven wine that is a testament to his skills. It was a proud moment for Jarrad and the whole team.
Jarrad brings over 13 years of experience to Pauletts. He's worked at some of Clare Valley's best wineries, including Kilikanoon and Leasingham Wines. He's also chalked up some impressive international experience with Chateau Montelena Winery in the Napa Valley.
Jarrad is committed to carrying on the family tradition of producing the fine regional wines Pauletts is known for, including of course our world-famous Rieslings.
Thomas Erkelenz
Head Chef
"What excites me is finding new ways to utilise ingredients apart from the obvious… rely on good old-fashioned cookery techniques and your instincts to let the produce shine."
Head chef Thomas Erkelenz aka 'Erky Thomas' is the perfect fit for our award winning Bush DeVine Winery Restaurant. He brings passion, innovation and incredible skill to every dish he turns out.
We knew from the moment we met him (when he turned up armed with a full menu plan and ideas for a wine pairing) that he was the kind of chef who could take our vision of a bush food inspired menu to the next level.
Tom creates simple and elegant food, designed to let the true flavours of the ingredients shine.
His approach to food is a lot like our approach to winemaking: he takes the best seasonal produce and combines it to create dishes that speak for themselves. He's also a keen forager – and can tell you where the best local bounty can be found.
Tom is a classically trained chef who has worked at leading restaurants, both at home and abroad. The experience has given him a strong ethos in regard to produce, technique and work ethic, but it also left him keenly aware of the toll gruelling schedules can have on chefs and their families.
Like all of us here at Pauletts, he's committed to family and his values gel perfectly with ours: he wants to make great food that people enjoy. "We want people to have a good time together. We want them to enjoy the wine and the food and just enjoy the experience." We couldn't agree more!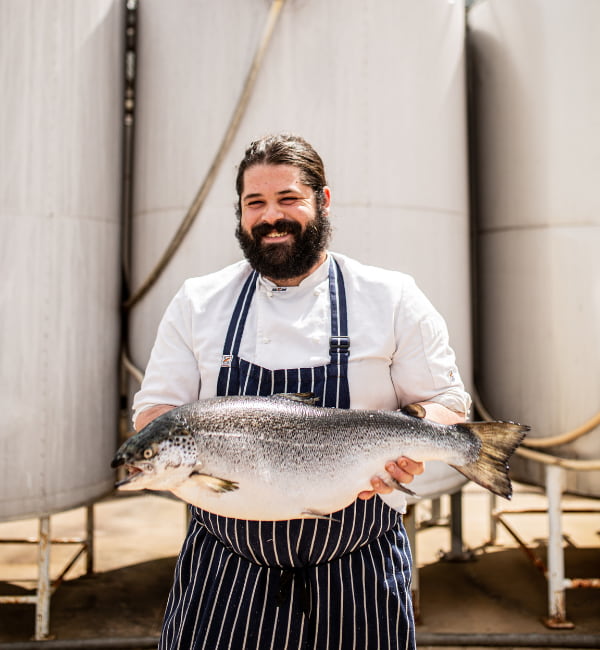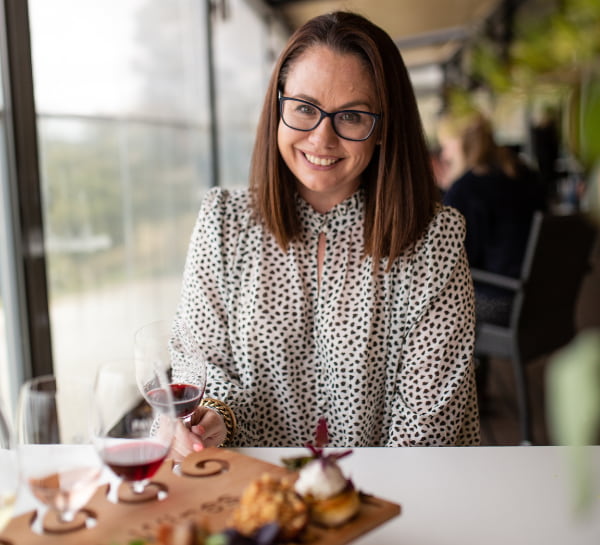 Belinda Pink
Sales and Marketing Manager
"I love my job. I love the team. I love what I do. I love the product and what it stands for. Quality runs from the vineyard, right through every vintage of Pauletts wines. Marketing the world's best Riesling is a great job to have."
More than 20 years ago, Belinda said goodbye to her travel agent career in Adelaide and moved to the Clare Valley for love. Once she arrived, she discovered a passion for the wine industry that has guided her career for the past two decades.
Belinda was drawn to the family values at Pauletts and she joined the team in 2020.
She admits that the quality of Pauletts wine and the shared family values across the team makes it easy for her to do her job. This is a product she loves and believes in.
It's also easy to be part of a team that is much like a family. From the moment she stepped into Pauletts, she was warmly welcomed with open arms.
Belinda's passion for good wine isn't the only thing that she loves about the wine industry. "It's the excitement of being part of an industry that is constantly evolving to new and greater heights. I love building relationships with customers and distributors. And Pauletts wine is an amazing product to sell."
Outside of work, Belinda keeps busy running around after her twin teenage daughters or catching up with friends over dinner.
Alli Kocsis
Cellar Door and Restaurant Manager
"I've worked in hospitality for my whole career and I've never seen another business like Pauletts. To work with people who are so humble and passionate is a joy. 100% of their heart goes into the food and wine we produce, and to be part of that success is amazing."
Alli Kocsis has been part of Bush DeVine since it opened. In that time, she has built a team of other passionate foodies who love food and wine as much as she does.
As the Cellar Door and Restaurant Manager, Alli interacts with most of the visitors to Pauletts.
She wants everyone who visits us to have the same wonderful experience, whether they eat at Bush DeVine or visit the cellar door for a wine tasting experience.
"We've had some amazing awards, which is so humbling. But I'm always focused on providing that same level of service to every Pauletts visitor. Everyone should have that same award-winning experience."
When Alli found a 30-year-old photo of her parents drinking a bottle of Polish Hill River Riesling, she had a full circle moment. Her parents had been drinking Pauletts wine for three decades and now here she is working at the winery. It was clearly meant to be.